Meet the companies that build their success in our park.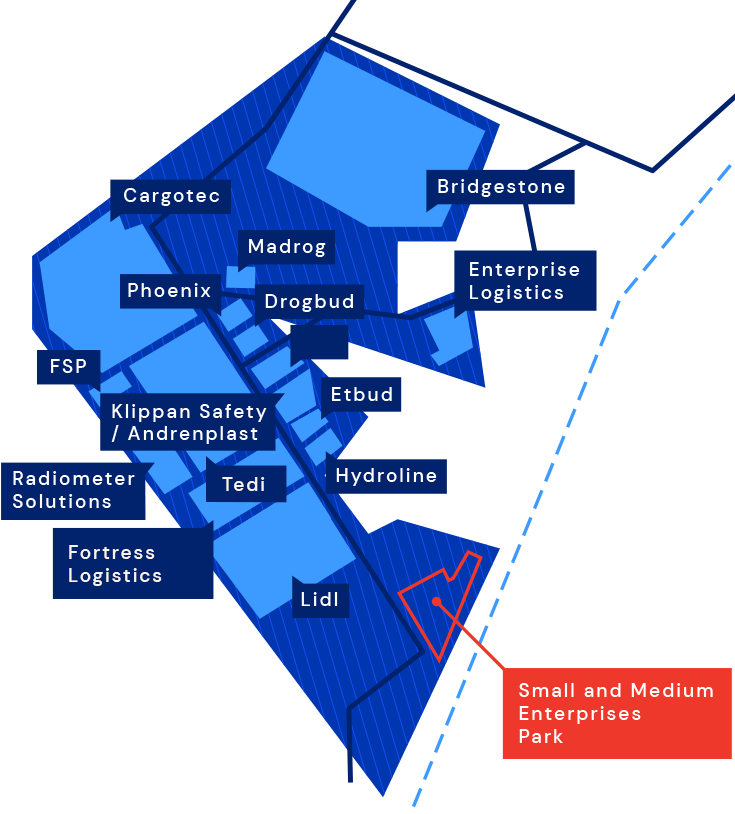 Selected companies in PPNT
BRIDGESTONE STARGARD – the world's leader in manufacturing tires and rubber products. In Stargard, Bridgestone manufactures tires for buses and trucks. Among many different products in company's portfolio you can find technologically advanced low-rolling resistance tire ECOPIA, the new generation long-distance tire that reduces fuel consumption, lowers CO2 emissions and ensures operation even in the most difficult weather conditions. Bridgestone plant in Stargard is listed as a one of the biggest foreign investors in the region.
CARGOTEC Corporation (Kalmar & Hiab) is a finish company that makes cargo-handling machinery for ships, ports, terminals and local distribution. 
Kalmar products and services are used in ports, terminals, distribution centers and in the heavy industry. Kalmar products include forklifts, terminal tractors, quay cranes, yard cranes and many others.
Hiab products, service and spare parts are used in on-road transport and delivery. The product portfolio includes loader cranes, forestry cranes, recycling cranes, truck-mounted forklifts.
Klippan Safety develops and manufactures products in three major segments – bed systems, cargo storage solutions and restraint systems. They provide drivers and occupants with functions for safe driving and high living comfort.
Klippan Safety supplies bed systems, cargo storage solutions and restraint systems to most of Europe's leading truck manufacturers as well as safety nets and belt products to many first tier suppliers in Europe.
Manufacturer of medical equipment to diagnose crictical parameters of blood. Radiometer's products and solutions help diagnose and care for critically ill hospital patients by providing fast, accurate information on a variety of parameters.
Radiometer analyzers, monitors, systems and software are also used in blood banks, general practice offices and clinics for the screening and treatment of a variety of conditions.
TEDi is a German retail chain with more than 2,950 stores in 15 European countries.
The company is one of the leading companies in the industry, offering customers the essentials of every household.
It operates in Stargard in a logistics center with an area of 87,300 sqm. The warehouse stores the full range of products sold in TEDi stores: daily necessities, cosmetics, household products, pet food, as well as decorative, gift and office accessories.
Andrénplast is an experts in vacuum forming plastics and thermoplastic systems. They have both: the expertise and experience necessary to achieve the perfect final product. Andrénplast has been around for over a hundred years as a company focused on vacuum forming since the 1970s. New plant in Stargard supplies products to many customers in this part of Europe.
Lidl Distribution Center – LIDL has purchased a plot of 18 ha in the High Technologies Industrial Park. The DC will store and dispatch food and non food products to the regional network of discount stores. Highly innovative store implemented a lot of green solutions, like reuse of rain water or highly innovative energy systems for warehouse and offices.